I have now served out the first half of my second quarantine. One more week and I'll be free!
Crossway has released a new ESV Women's Study Bible and it's 50% off for the next few days at Westminster Books.
There's a handful of Kindle deals today, the best of which is Alec Motyer's reader-friendly guide to Isaiah.
What a fitting tribute to a loved one. "Fred Moyers was many things. We all are, I guess, but he was more. He was a World War II soldier. D-day, the Battle of the Bulge, prisoner of war, hero, the whole bit. He was a husband. Faithful. Kind. Generous. He was a father of two. Loving. Constant. Tender. He was a grandfather to four and great-grandfather to nine. Fun. Energetic. Encouraging. He was a servant of his church. Christian. God-fearing. Available."
WORLD magazine has a longish article about the QAnon phenomenon. "Family members and friends of QAnon followers know and love them: They know what the backstory is that caused them to distrust the medical, political, or media establishments, and they understand why QAnon is appealing. People I interviewed, like Kelly Wolfe, wanted to make sure their loved ones were portrayed with compassion and respect."
How can parents and pastors protect the vulnerable from abuse? Rachael Denhollander explores this question in the latest episode of the Ministry Network Podcast (available in video and audio formats). Listen to Rachael discuss how to help children find their identity in Christ, how to formulate good protective policies, and how to message issues of abuse from a God-centered perspective. In previous episodes, you'll hear Paul Washer discuss convictional ministry (audio, video), Rosaria Butterfield talk about hospitality (audio, video), and more. Subscribe to be notified of new episodes featuring Russell Moore, Tony Reinke, Jared Wilson, Sinclair Ferguson, and others. (Want to learn more about Ministry Network? Visit our site.) (Sponsored Link)
Jon Bloom looks at a tricky verse. "While we know that we should not insist on our own way in some situations, we also know that we should in others, to the degree that our way is not our own but God's. Paul didn't mean love never insists on a particular way. If he did, the biblical record demonstrates that he didn't live by this rule of love."
This article points out that in so many ways the COVID-19 pandemic mimics pandemics from the past, and especially the Spanish Flu pandemic of 1918-1919. It's another good argument for knowing our church history.
Anyone who has preached will be able to attest to the struggles that can come in the immediate aftermath. That's the subject of this article from Dave Harvey. "Before, during, and after attacks, run to the good news of the Gospel. Realize that preaching is about the power of God's word, not your words. Remember, there's no sermon delivery in the history of the world that was so bad it drained God's word of power. God is big enough to allow people to remember his eternal words and forget your stupid ones. Do you really think God's purpose rests on the quality of your preaching? That's not what you preach. Sunday afternoon is your time to apply."
This article reminds me that "precious in the sight of the LORD is the death of his saints." "Christine grew up in a family and culture that was atheistic, and she assumed that this was the way to view the world. A highly intelligent and capable woman, being informed that she had terminal cancer broke apart what she believed to be true about the world. Suffering didn't reinforce her atheism, it led her to seek out God."
There are many reasons to not only read the Bible, but to read the whole Bible (as Elizabeth Turnage points out here).
Prayer is one of the great responsibilities and the great privileges of being a Christian. Yet prayer is also difficult. It is difficult to pray effectively and it is difficult to pray systematically.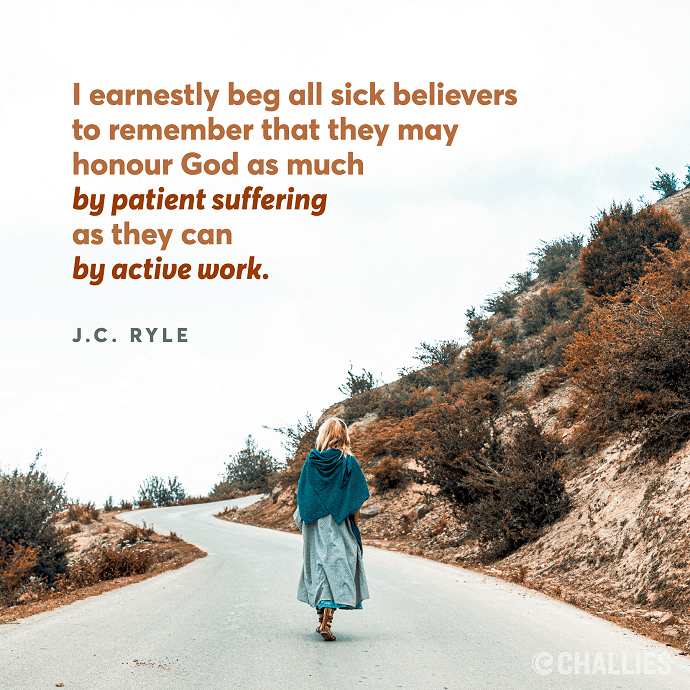 I earnestly beg all sick believers to remember that they may honour God as much by patient suffering as they can by active work. —J.C. Ryle
Thanks to the Courtesy of :

http://feedproxy.google.com/~r/challies/XhEt/~3/_LGHKdZeN9c/