Weekly Meanderings, 21 September 2019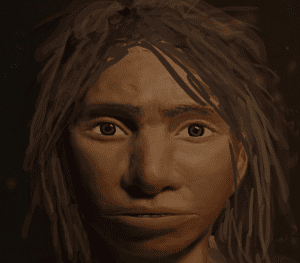 This is an image of what a Denisovan looked like (story below).
Well, maybe, perhaps, but not likely:
Researchers claim to have identified an anchor from St. Paul's shipwreck on the island of Malta.

According to Christian tradition, the apostle was shipwrecked on the Mediterranean island during an ill-fated first-century journey to Rome.

"The ship struck a sandbar and ran aground. The bow stuck fast and would not move, and the stern was broken to pieces by the pounding of the surf," according to the Acts of the Apostles. "Once safely on shore, we found out that the island was called Malta."

Acts also notes that four anchors were dropped from the ship and subsequently cut loose, enabling the ship to run aground.

The Bible Archaeology Search and Exploration (BASE) Institute believes that it has identified evidence of the shipwreck, which occurred around 60 A.D.

In a post on the organization's website, BASE says that four ancient anchors were recovered by local divers, adding that only one of the anchors has survived. "The fourth anchor was preserved as part of a deceased diver's legacy to his widow," BASE writes. The organization, which is led by Bob Cornuke, also believes that the shipwreck happened in St. Thomas Bay on Malta's southern coast, as opposed to in what is now known as St. Paul's Bay in the north of the island….

Critics, however, have said that there is a lack of evidence to support BASE's theory, and a question mark still lingers over the wreck's actual location. Another anchor marked with ancient inscriptions that was discovered off Salina on the northern coast of Malta in 2005, for example, has also been touted as possibly linked to St. Paul's shipwreck.
It's not persecution, it's civility. Why? Because their freedom of speech is promised. It's not a freedom of speech issue to prohibit someone from walking on to Soldier Field during a game, it's not a freedom of speech issue to ban someone from using a loud speak to evangelize in an air plane or a car. There are plenty of places to evangelize, go there.
Last April, four Wheaton College students were distributing evangelistic literature in Chicago's Millennium Park.  They were doing so in an area of the park that does not allow "the making of speeches and passing out of written communications."  When a security guard told them to stop passing-out the literature, one of them began "open-air" preaching.  The students are now suing the city of Chicago because they believe that the city violated their freedom of speech and free exercise of religion.  Among other things, they want to be awarded "damages for violation" of their "constitutional and statutory rights and for the injuries and unlawful burdens it has incurred."

Mauck & Baker, a Chicago law firm specializing in religious freedom, is defending the students.  Partner Richard Baker is a 1977 Wheaton College graduate.

Here is a Chicago Tribune story on the case.

I don't know who is legally correct in this case. I actually appreciate designated parts of public parks that are free of political speeches, literature distribution, and proselytizing of all kinds.  On the other hand, as an evangelical Christian I am glad to see these young men sharing their faith.  I hope they continue to do so and continue to trust God to open up opportunities for them.

This case has started me thinking about the relationship between Christian persecution and American "rights."  How should Christians balance their rights as citizens with Bible verses that encourage them to rejoice in suffering and persecution?  It seems that the Bible speaks about persecution and suffering as a spiritual virtue, rather than something that should be opposed in a court of law.  Doesn't suffering lead us toward hope and a deeper understanding of our faith and reliance upon God?  When we are persecuted for Christ should we expect the government to provide us with damages for our emotional distress?
A powerful, a tragic, a sad, a joyous post about leaving complementarianism.
I could write a whole separate letter about the effects of complementarian theology on my marriage and our process towards spiritual health and mutuality. I briefly mentioned some of the challenges and frustrations my husband and I experienced in trying to live out what we understood to be our "roles", however, I want to share a little more about what our process has looked like, as well as what some of my friends have learned in their marriages.

My husband and I have come to realize that in many ways, at our healthiest, we already function as mutualists. Even our decision to attend a new church came after months of talking, praying and waiting for God to unite us in one direction. Conflict arises, most often, when we force ourselves into the roles we've been taught to play. He feels the crushing weight of total responsibility and I feel stripped of my agency.

Another woman shared with me that she and her husband have found new freedom and health in their marriage by stepping outside the rigid confines of marriage roles. Having felt a shared call into ministry, she waited years for him to cast the vision and initiate the process. However, this "submissive" waiting, was actually putting a weight on her husband that wasn't his alone to bear. God has equipped her to take an active and at times leading role in pursuing their calling. Her husband affirms and appreciates her leadership, and they are a team.

One other couple in our group has found healing and affirmation after leaving the staff of a college ministry, largely due to painful and unhealthy gender dynamics and teachings. While she had been advocating for women on staff for several years, they were able to find like minded brothers and sisters through our group. He is a student at a complementarian seminary, where he recently began focusing his research on the biblical theology of women.

While these stories are hopeful and God has protected our marriages, this process has been costly. Some of us have left churches, lost close friendships, and felt the very foundation of our faith shaken. Yet, there is no other path forward. This isn't just a cause we've decided to take up. I really believe this is a fight for faithfulness to Christ.
Where have all the birds gone?
WASHINGTON (AP) — North America's skies are lonelier and quieter as nearly 3 billion fewer wild birds soar in the air than in 1970, a comprehensive study shows.

The new study focuses on the drop in sheer numbers of birds, not extinctions. The bird population in the United States and Canada was probably around 10.1 billion nearly half a century ago and has fallen 29% to about 7.2 billion birds, according to a study in Thursday's journal Science.

"People need to pay attention to the birds around them because they are slowly disappearing," said study lead author Kenneth Rosenberg, a Cornell University conservation scientist. "One of the scary things about the results is that it is happening right under our eyes. We might not even notice it until it's too late."

Rosenberg and colleagues projected population data using weather radar, 13 different bird surveys going back to 1970 and computer modeling to come up with trends for 529 species of North American birds. That's not all species, but more than three-quarters of them and most of the missed species are quite rare, Rosenberg said.

Using weather radar data, which captures flocks of migrating birds, is a new method, he said.

"This is a landmark paper. It's put numbers to everyone's fears about what's going on," said Joel Cracraft, curator-in-charge for ornithology of the American Museum of Natural History, who wasn't part of the study.

"It's even more stark than what many of us might have guessed," Cracraft said.

Every year University of Connecticut's Margaret Rubega, the state ornithologist, gets calls from people noticing fewer birds. And this study, which she wasn't part of, highlights an important problem, she said.

"If you came out of your house one morning and noticed that a third of all the houses in your neighborhood were empty, you'd rightly conclude that something threatening was going on," Rubega said in an email. "3 billion of our neighbors, the ones who eat the bugs that destroy our food plants and carry diseases like equine encephalitis, are gone. I think we all ought to think that's threatening."

Some of the most common and recognizable birds are taking the biggest hits, even though they are not near disappearing yet, Rosenberg said.
Denisovans are a mysterious group of our ancient relatives, unknown until a decade ago, who lived alongside Neanderthals and Homo sapiens. The hominin species is thought to have ranged from Siberia to Indonesia, and many places in between (although some researchers believe the Denisovans could actually be multiple species or groups). When these curious human cousins vanished, they left behind surviving bits of their DNA in living Melanesian and East Asian people, but not much else. So far, the only known Denisovan fossils include just a few teeth, a finger bone and a small fragment from a Russian cave, and a partial jaw found on the Tibetan Plateau.

Yet today it's possible to stare into a Denisovan face for the first time thanks to a striking reconstruction created by some genetic detective work. Scientists used patterns of gene expression mined from ancient Denisovan DNA, which was extracted from a 100,000-year-old pinkie finger, to reconstruct the physical characteristics of a Denisovan face and skull—even though such a fossil has never been found.

Geneticist Liran Carmel of the Hebrew University of Jerusalem said other groups have worked to map anatomical features from the information hidden in our DNA. But his team took a different approach, outlined in a study published today in Cell.

"We didn't rely on the DNA sequence per se," Carmel says. "But from the sequence we used a technique which allows you to reconstruct gene activity patterns in these ancient individuals so we can compare the way the genes work in the different human groups."
Police are trying to recover a 

toilet

 made entirely from 18-carat-gold said to be worth around $6 million that was stolen Saturday morning from 

Blenheim Palace

 in Oxfordshire, England, the stately home where former prime minister Winston Churchill was born.

The fully functioning toilet was installed as part of an exhibition by Italian artist Maurizio Cattelan titled "Victory is Not an Option," which only opened to the public on Thursday. The palace remained shut for the rest of the day Saturday, a spokesperson 

said

 on Twitter.

Dominic Hare, CEO of Blenheim Palace, said that the artwork, titled "America," is valued at around $6 million.

Thames Valley Police received a report of the toilet's theft at 4:57 a.m. Saturday morning. The thieves left the scene at about 4:50 a.m., according to a statement posted online. A 66-year-old man has been arrested in connection with the theft.

Detective Inspector Jess Milne said in the statement: "Due to the toilet being plumbed in to the building, this has caused significant damage and flooding," adding, "We believe a group offenders used at least two vehicles during the offense."

"The artwork has not been recovered at this time but we are conducting a thorough investigation to find it and bring those responsible to justice," Milne continued, appealing for any potential witnesses to contact police.
Sometimes giving advice to my teenage daughters feels like shouting into
the wind.

Did you know that you'd be able to concentrate better if you got more sleep?

If you put your keys in the same place every day, you'd be less likely to lose them!

Try making a to-do list at the start of the weekend. It will help you manage your time.

Shouting into the wind is, of course, part of the job description for parents, teachers, and anyone else who genuinely cares for the well-being of young people. After all, there are some things we know that they don't.

But very often, the advice we're dispensing is nothing new. My daughters
have already been told countless times—by me, their dad, and who knows who else—that they should go to bed earlier, establish routines to stay organized, and plan ahead.

In other words, many young people know what's best, yet fail to act accordingly.

A few years ago, after working by my side on many failed interventions, a brilliant graduate student named Lauren Eskreis-Winkler came up with an entirely different idea: "What if, instead of telling kids what to do, we asked them to give advice to younger students?"

Lauren soon set to work on interventions that were much simpler than anything we'd done before. When young people are gently prompted to give advice to others, their own motivation and confidence improve.

In one recent study, Lauren and her collaborators found that high school students who were asked to give younger peers advice on study strategies
and other ways to succeed academically—an activity that took only eight minutes—improved their own report card grades that marking period.
Thanks to the Courtesy of :

https://www.patheos.com/blogs/jesuscreed/2019/09/21/weekly-meanderings-21-september-2019/