The Letter of Hebrews and the Church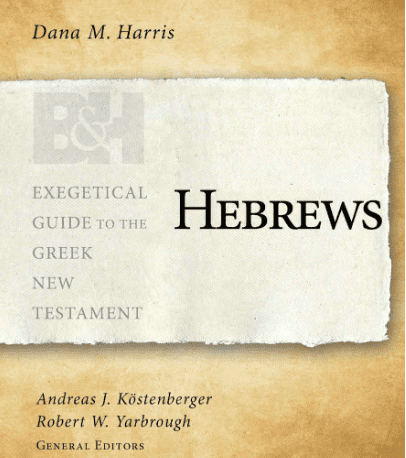 I said to a friend last Sunday that pastors seem to avoid preaching Hebrews even more than Romans. My experience is that the intense Pauline scholarship of the last 50 years made many preachers fear preaching Romans — too many theories, too many exegetical problems, too much at stake — so they preach on Galatians!
This is even more true of Hebrews.
Two problems for preaching Hebrews: the grammatical exegesis is a challenge and the relevance of the book to modern Christian living seems to be difficult for many preachers.
What to do?
Start here: Dana Harris has the newest book in The Exegetical Guide to the Greek New Testament series, one of my favorite commentary series: Hebrews.
Every grammatical observation, exegetical options, brief parenthetical references to the major grammars and commentaries, along with a brief translation of each option — it's all here for the pastor who wants to work with the Greek text but knows Hebrews is a challenge to her or his Greek knowledge.
Plus, both bibliographic suggestions with homiletical suggestions. Not just one but often more than one. Dana provides for the teaching pastor a variety of approaches to teaching/preaching each passage.
Murray Harris, my teacher and friend, designed this series years ago so it's a bonus day for me each time one of these volumes is completed. Dana is no relation to Murray though Murray would be proud of this careful approach to Hebrews.
I have often told students wondering their level of knowledge that if they can read two pages in one of these volumes without having to look up a term they have mastered Greek sufficiently to go on (to a PhD) or to teach Greek.