Breaking Through Spiritual Walls in Great Falls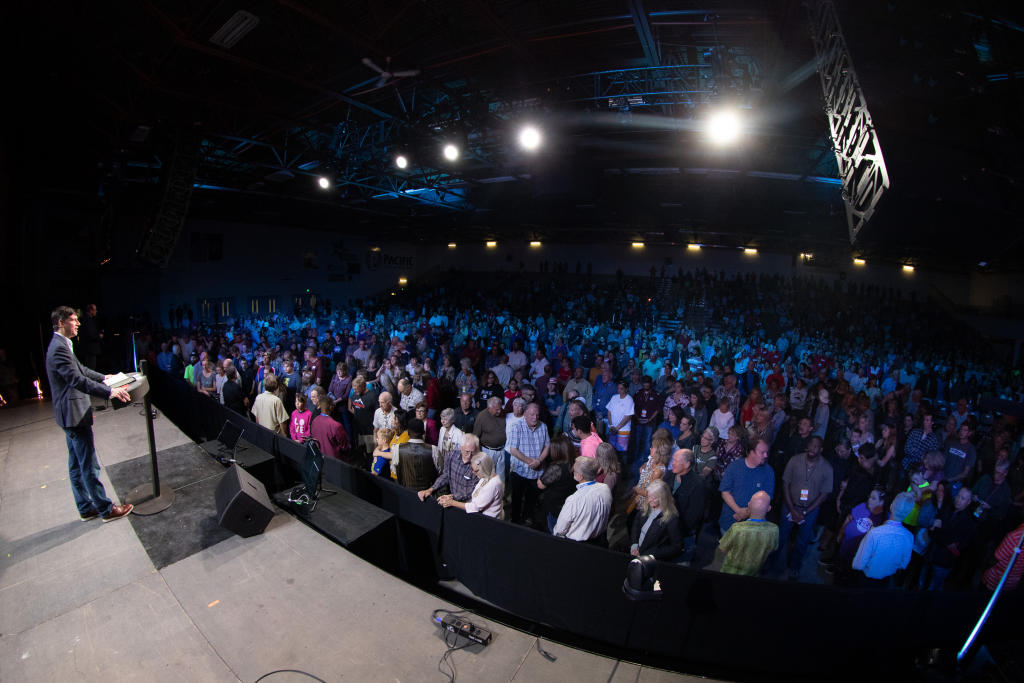 Great Falls, Montana, is the final city where Will Graham is preaching the Gospel during the Big Sky Celebration. On the first night, more than 1,400 people filled the Four Seasons Arena and another 7,100 watched online.
It was a beautiful day for a battle in Great Falls, Montana, on Friday.
Blue skies and sunshine could easily deceive out-of-towners into thinking all is well in the picturesque city. But local believers know the struggles of this region—including some of the highest suicide rates in the country—and they know that the devil is to blame.
With a message about lasting hope in Jesus Christ, the Big Sky Celebration wasn't just another event—it was an active attack against the enemy.
"Unless you come to Christ by faith to the foot of the cross, there's no hope for you. You've got to come to Christ," Will Graham said. "God doesn't put a Band-Aid on your life and say, 'I hope this will work.' God gives you a whole new life, a new beginning, a fresh start."
The evangelist has been sharing this powerful truth across Montana, stopping in Helena last weekend and in Hamilton on Wednesday. A slew of musicians—The Afters, Aaron Shust, The Color and Hollyn—joined him in proclaiming the Good News for the first of three events in Great Falls.
"As great as this place is and as beautiful as it is, I'm sure there's days when the clouds move in. … Days when you face Montana-sized mountains," said Josh Havens of The Afters, referencing his own struggles with anxiety. "God's bigger than all of it."
Local pastor and co-chair of the leadership team, Lee Barrows, is well acquainted with the struggles of his home state. But he's also witnessed how Celebration preparations brought believers together and impassioned them to introduce the hopeless to the hope of Christ—the key to transformed lives.
"Once there is a breakthrough, people see the tremendous value of meaningful relationships," Barrows said, noting the independent spirit of many Montanans.
And so, that was the prayer going into Friday's event—that the Holy Spirit would break through the walls around the hearts of those listening. And break down walls He did.
Roommates Find New Life in Christ
Friday, September 13, is a day Jennifer will never forget.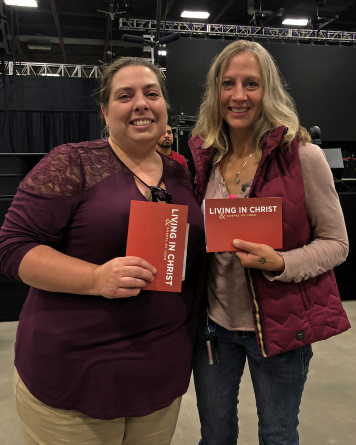 Roommates who share the name Jennifer now also share the freedom of Christ. They're excited to get involved in local churches and to study God's Word for themselves, starting with the Living in Christ Bible study they received Friday.
"I wasn't going to come, but my roommate kept asking me," she said. She finally agreed to go just hours before the Big Sky Celebration event.
As Will Graham shared the story of the Prodigal Son out of Luke 15, Jennifer listened intently. When the time came for a response, she chose to follow the same path of redemption the rebellious son followed. She chose to return to her heavenly Father and came forward at Will Graham's invitation.
"I've had a lot going on in my life. I've been weighed down," Jennifer explained. "It's time to get rid of that weight."
The soft smile on her face and the slight tears in her eyes suggested that her walk to the front of the stage wasn't just a physical act—but a spiritual breakthrough.
A middle-aged woman walked up to Jennifer to give her a hug, saying, "You're radiant."
That wasn't the only hug she received Friday night.
Her roommate, also named Jennifer, greeted her at the front of the Four Seasons Arena with an embrace.
"I've been trying to get her to come to church," said the roommate and fellow school bus driver. "I didn't expect to see her up here."
She didn't expect to be up there either.
The Holy Spirit used Will Graham's message to convict Jennifer's heart as she realized how distant she's been from God. Leaving her seat at the back of the venue, Jennifer weaved past more than 1,400 people to rededicate her life to Christ.
"I was alone when I first accepted Christ," Jennifer remembered.
"This feels more real," she said, while holding a Bible study she received after talking to a trained prayer counselor. Inside, she wrote her new spiritual birthday: September 13, 2019.
The Big Sky Celebration continues tonight and Sunday in Great Falls. Watch the event live at 7 p.m. MT/9 p.m. ET on Saturday and 6 p.m. MT/8 p.m. ET on Sunday.