Bible Word Study Made Easy: A Conversation with Dr. Bill Mounce—Video #1 Getting Started
Dr. Bill Mounce (@billmounce) is founder and president of BiblicalTraining.org. He's a member of the Committee for Bible Translation, responsible for producing the very popular New International Version (NIV) Bible translation. He also served for ten years as the New Testament Chair of the English Standard Version (ESV) Bible translation. He's the author of bestselling books, DVDs, and other resources about biblical Greek, such as Basics of Biblical Greek Grammar and Greek for the Rest of Us. He blogs regularly about biblical Greek, the nuances and challenges of translating the Bible, and general issues of spiritual growth.
In this first of three video conversations, Bill explains:
that Bible translations are good and needed
how to compare Bible translations
how knowing a little of the biblical Greek language can help you in studying Scripture
what the original languages of the Bible were
how the New Testament was written mostly in Greek, his area of expertise
the elements of biblical Greek, its alphabet and its transliteration
Koine Greek vs. Ancient Greek vs. Modern Greek
Greek word studies vs. English word studies.
[Read the Mounce Reverse-Interlinear New Testament on Bible Gateway]
Here's an excerpt from the video conversation:
Please explain what word studies are and why they're important.
Dr. Bill Mounce: At one level, explaining a word study is really simple. What does the word mean? But the problem is that words don't have a meaning. Words have a range of meanings called a semantic range. Take the word run. What does run mean? Well, you can run a business or have a runny nose. Words have a wide range of meaning.
I like to think of words as their meaning is a bundle of sticks. And each stick in the bundle is one of the things that that word means. So run may mean to run fast, or to run somewhere, or to run a business, or to run out of time. Each of those are sticks in the bundle. So the challenge of a word study is to figure out what the word means in its totality. And then figure out what the word means in this specific context? So word studies are simply, "What does the word mean?" But the process of doing it is a little more complicated.
[See Bible study reference resources mentioned by Bill in the Bible Gateway Store]
We like words; we hang on to words. I've heard sermons preached—or points in a sermon—being based on what a word means. Or we'll be reading along in the Bible and we'll see a word, and it'll really speak to us because of the work of the Spirit in our life, or something that happened to us that morning, and we zero in on that word. So words are really, really important, but they don't just mean one thing. And, again, that's the challenge.
When I'm speaking, especially to college audiences, I try to illustrate that meaning is conveyed by words and grammar and context, and the passage: cultural context. I'll say things like, "What do you think of when I say the word plethora?" And I can always tell who's seen Three Amigos. Because when I say a plethora—and I'll say it kind of like that—some will laugh and some will kind of look at me. I'll say, "No, a plethora of piñatas" and they still don't get it. See. You don't have the cultural context to understand what I really mean with the word plethora. But if I say inconceivable, they all know, because they've seen The Princess Bride.
---
Bible Gateway has over 30 English Bible translations, many audio Bibles, Bible reading plans, over 60 devotionals, and this Blog with Bible related news and tips. On top of that, we have many free reference tools and paid resources from our Bible Gateway Plus membership program. Included in there are resources written by Dr. Bill Mounce.
[Browse the many resources by Bill Mounce in the Bible Gateway Store]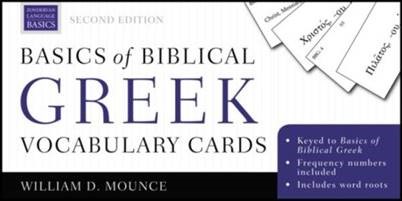 ---
Olive Tree Bible App resources mentioned by Bill Mounce 30% Off Coupon with code BMBG30
Watch the second video in this conversation series, "Your First Word Study," when it will be published on the Bible Gateway Blog September 4.
Watch the third video in this conversation series, "Diving Deeper," when it will be published on the Bible Gateway Blog September 9.
Register now for ChurchSource's free 30-minute webcast Tuesday, September 10th, at 3:00 pm ET with Dr. Bill Mounce. The topic: Is Biblical Greek Study Still Relevant to the Church Today?.
At 3:32 in the above video, Bill mentions that his children learned the Greek alphabet.
Click this image to hear them adorably recite it.
---
The above resources by Bill Mounce are published by HarperCollins Christian Publishing, Inc., the parent company of Bible Gateway.
---
Get to the roots of studying the Bible by becoming a member of Bible Gateway Plus. Try it free right now!