The Graham Family's Long History in North Carolina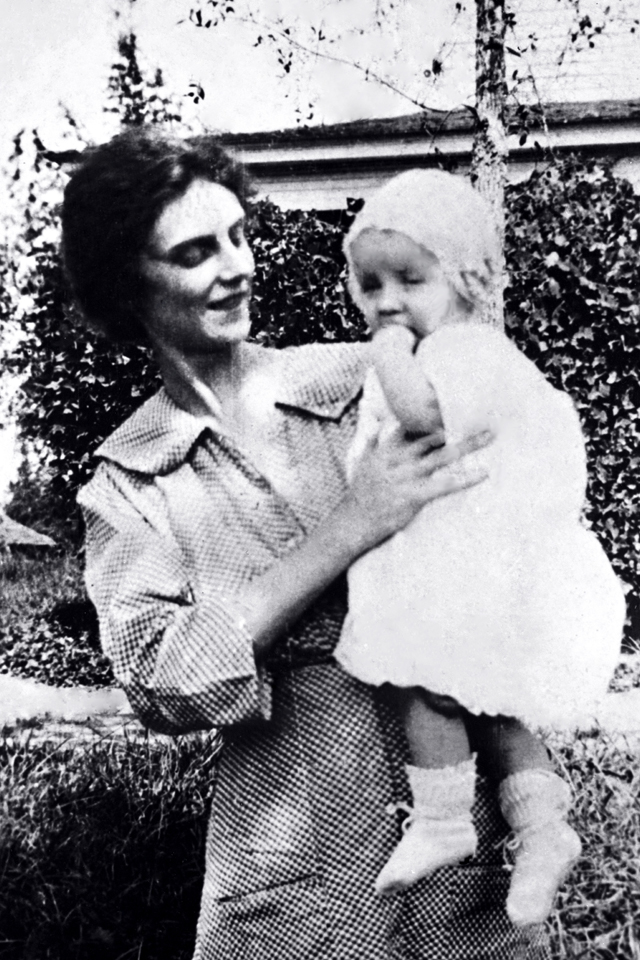 Billy Graham was born in Charlotte, North Carolina, on November 7, 1918. This is the first photo ever taken of him. His mother, Morrow, is holding her 6-month-old little boy.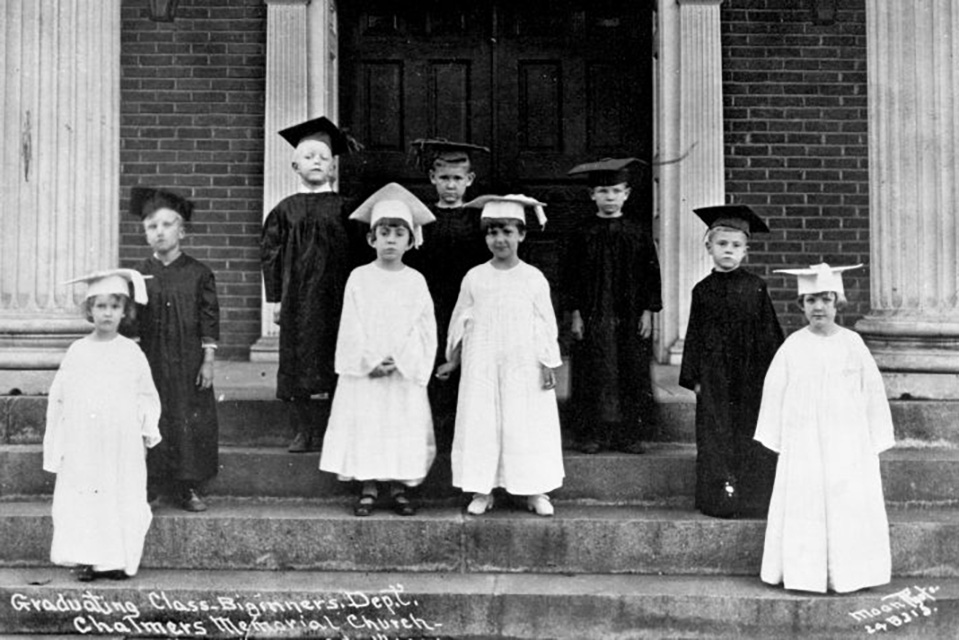 Billy Graham, second from the left, graduated from the beginners department of Chalmers Memorial Church in Charlotte on October 1, 1924. He was 5 years old.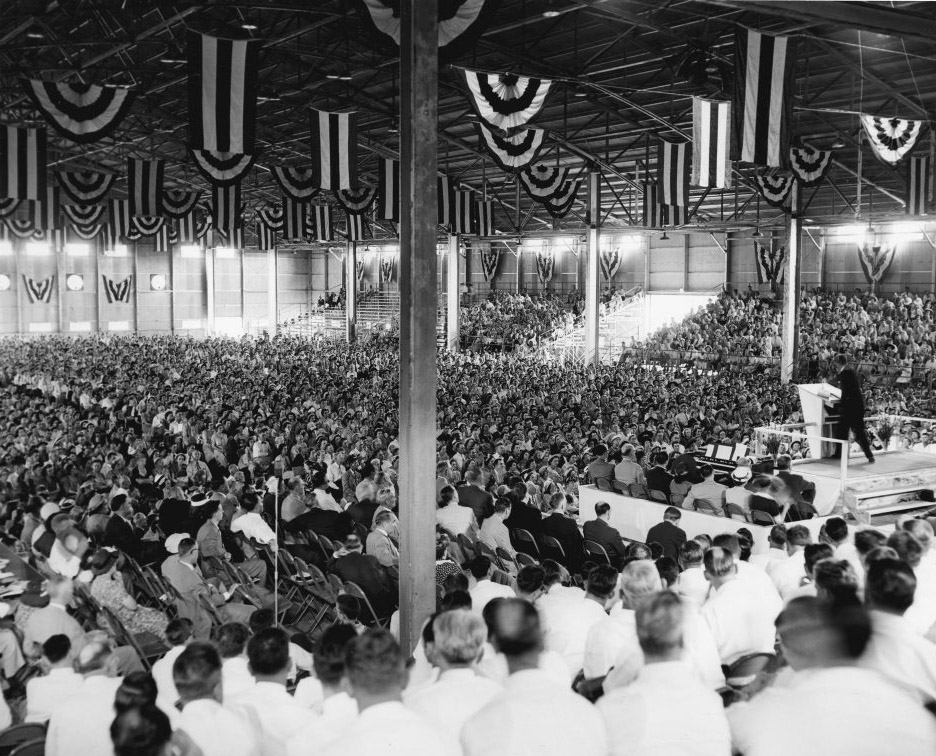 Billy Graham held one of his first evangelistic Crusades in his hometown of Charlotte in 1947. More than 40,000 people attended. Mr. Graham was 29 years old at the time.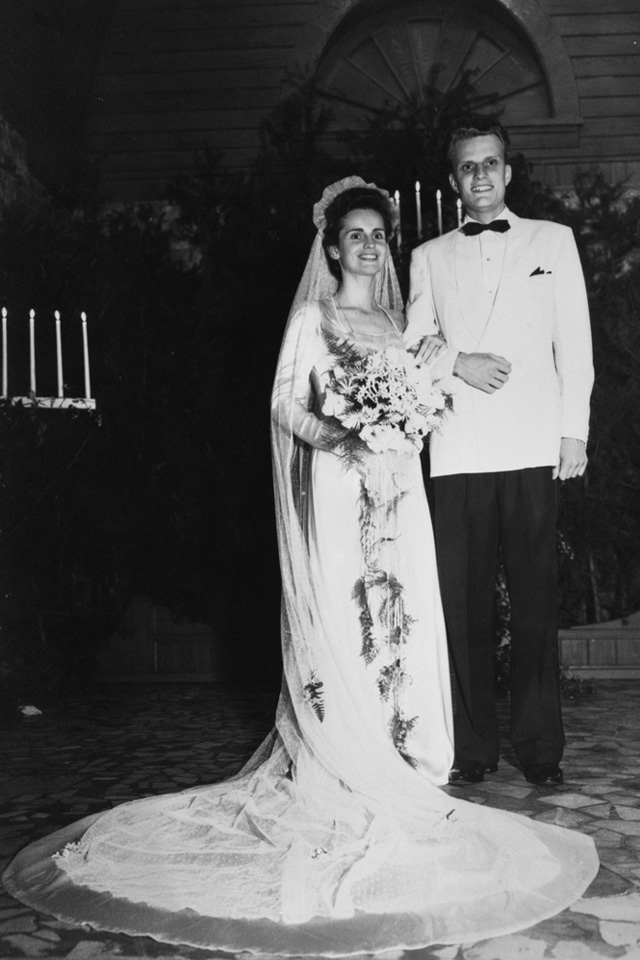 Ruth and Billy Graham were married on August 13, 1943, in Montreat, North Carolina, a small mountain community where they would raise their five children and spend most of their lives.
Billy and Ruth Graham and four of their five children at their home in Montreat. As adults, all of the Grahams' children are involved in Christian ministry.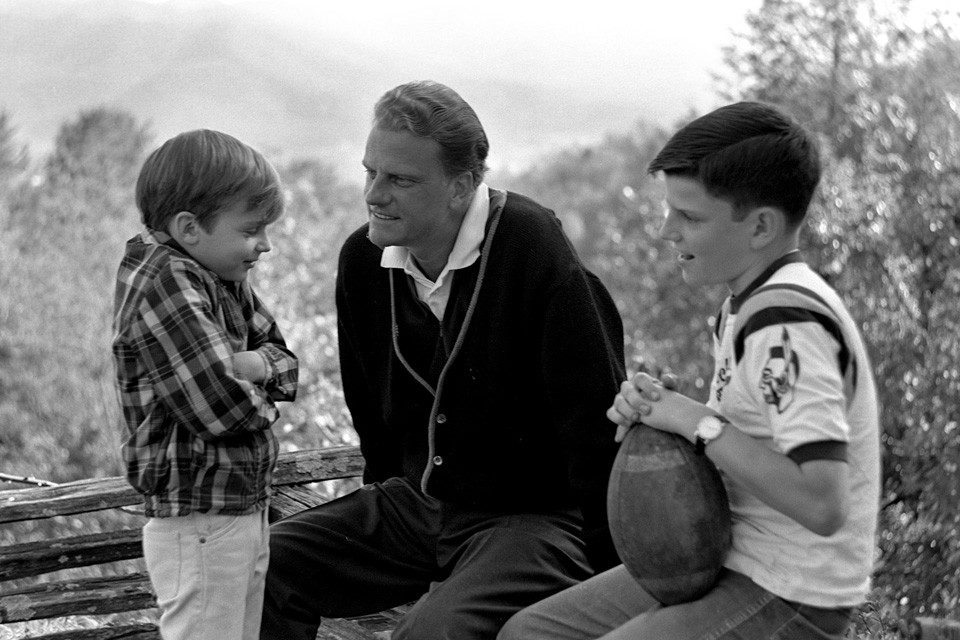 Billy Graham at home in Montreat with his two sons, Ned (left) and Franklin (right).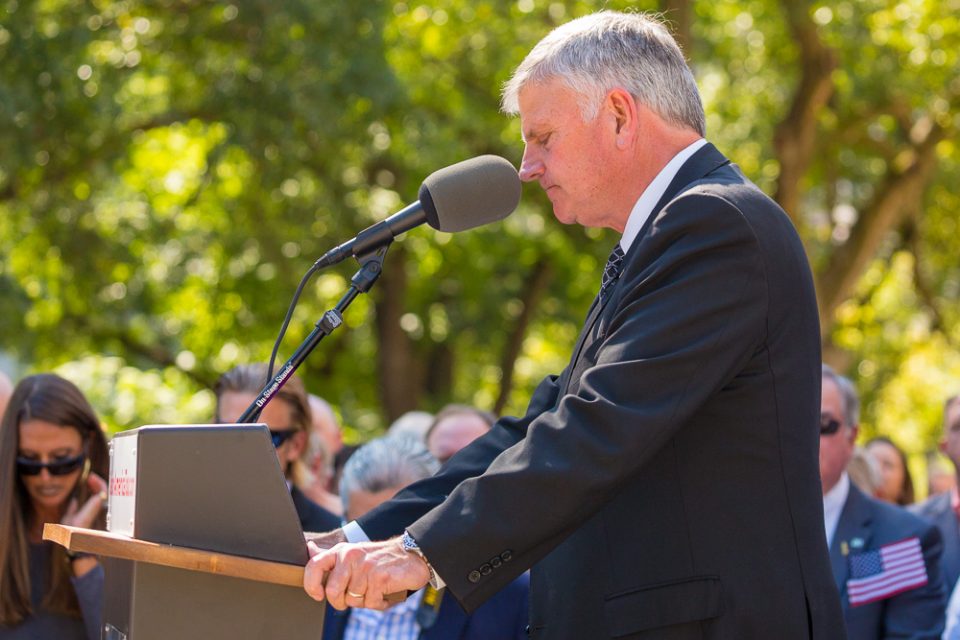 As president and CEO of the Billy Graham Evangelistic Association (BGEA), which is headquartered in Charlotte, Franklin Graham is carrying his father's legacy to future generations. Here, he prays with thousands of North Carolinians during the Decision America Tour stop in Raleigh in October 2016.
Franklin Graham traveled to all 50 state capitals in 2016, preaching the
Good News of Jesus Christ
, and calling on Christians to pray, vote and engage in the political process. An estimated 14,000 people joined him in Raleigh for the 50th and final stop on the 2016 tour. This October, the ongoing Decision America Tour is coming to Raleigh and seven other North Carolina cities.
Find out more.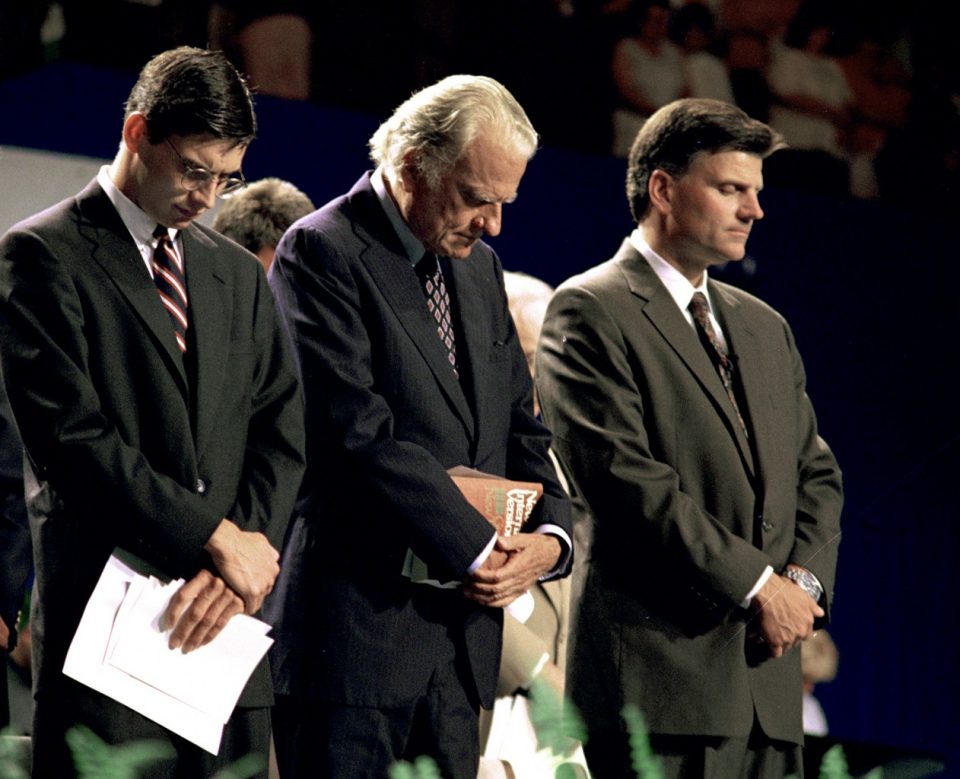 In 1995, Franklin Graham preached the Gospel in Wilmington, North Carolina. His father Billy Graham and oldest son Will Graham (far left) both attended. Wilmington is one of the eight stops on the upcoming
Decision America Tar Heel State Tour
.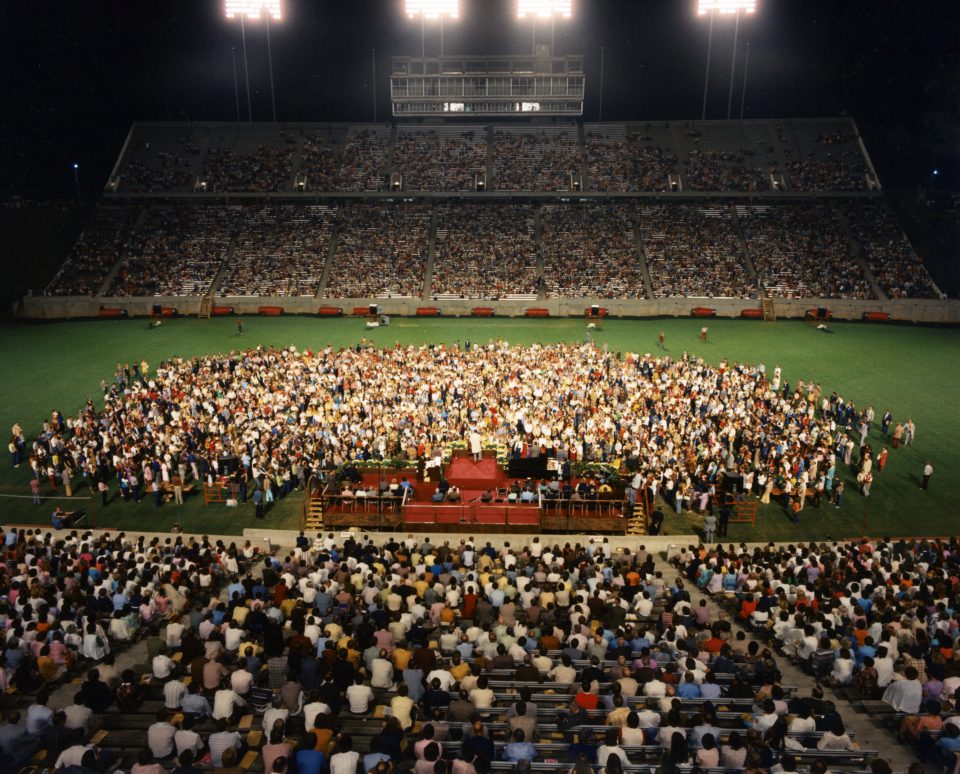 About 29,000 people packed Carter Stadium (now Carter-Finley Stadium) in Raleigh for Billy Graham's 1973 Crusade. "An N.C. State-Carolina football game couldn't have drawn a more devoted following," a Raleigh News & Observer reporter wrote at the time.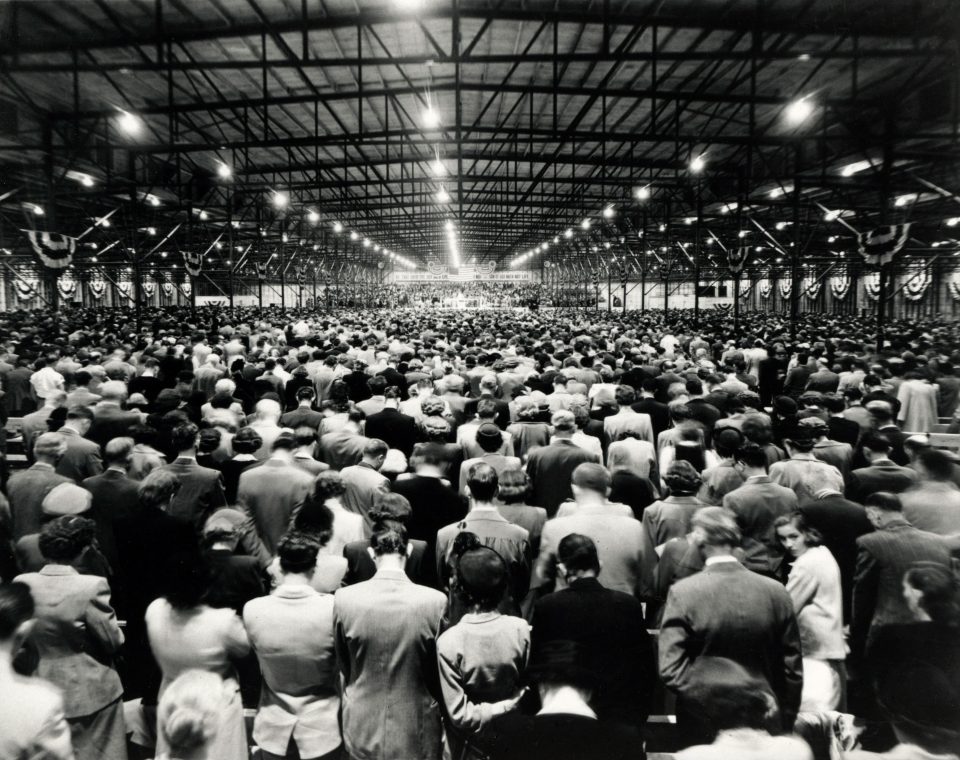 Thousands of people attended Billy Graham's Greensboro Crusade in 1951. "It was an electrifying atmosphere and you saw people who, you knew they were thinking about their past and everything that they had done, and you were too, and asking
God to forgive them
," a woman named Doris Henderson told local TV station WXII. "They went down the aisles. Many were crying, and I saw them live it out afterward."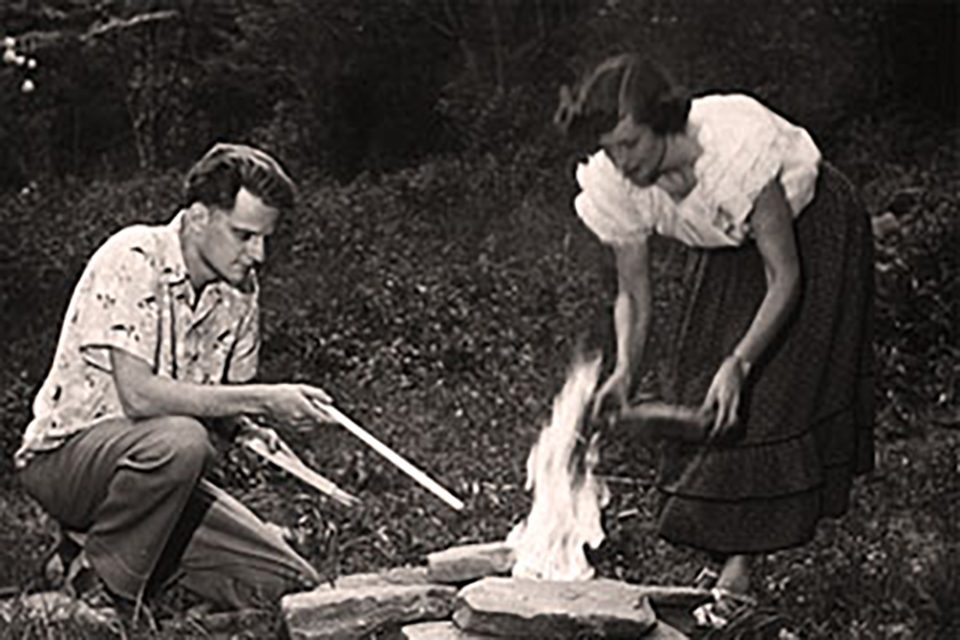 Billy and Ruth Graham enjoying a picnic in the Carolina Hills.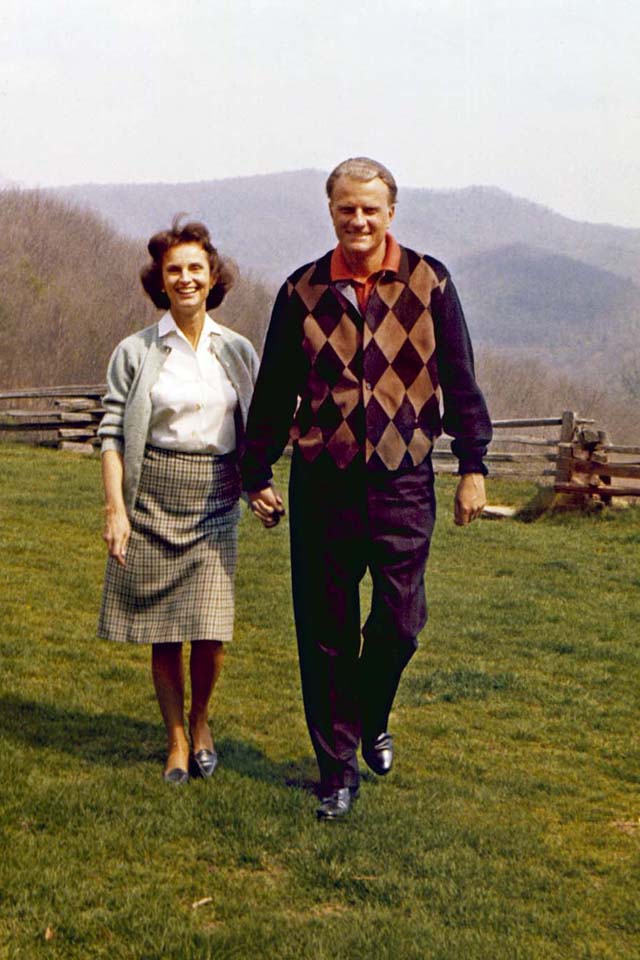 Billy and Ruth Graham at their mountain home in Montreat.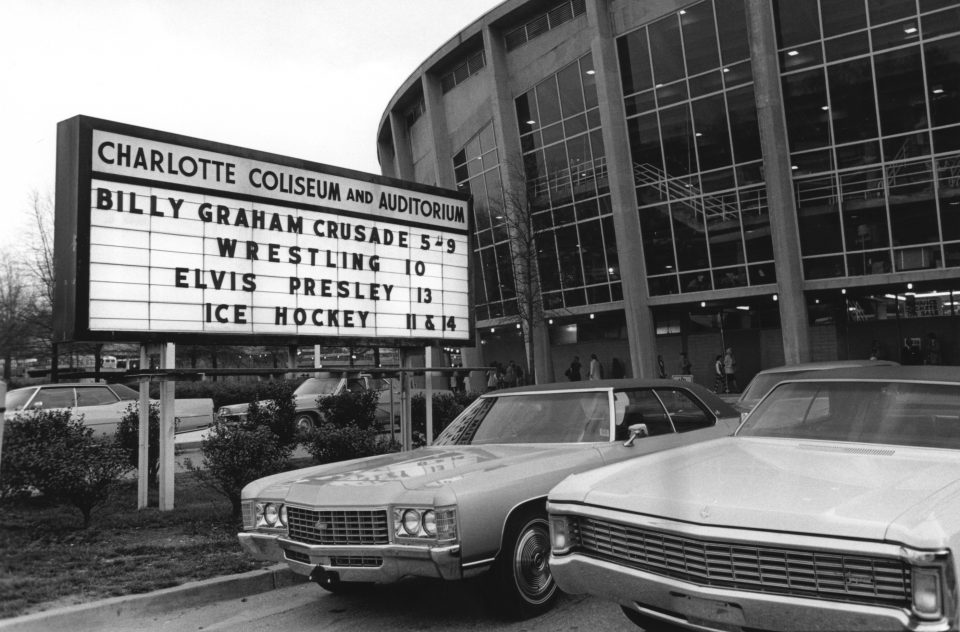 More than 70,000 people attended the 1972 Billy Graham Crusade at the Coliseum in Charlotte. The venue was packed to capacity for the five-night event. Nearby Ovens Auditorium was also filled by an overflow crowd who watched the service on a giant television screen. The Crusade was telecast live to 10 stations throughout North and South Carolina.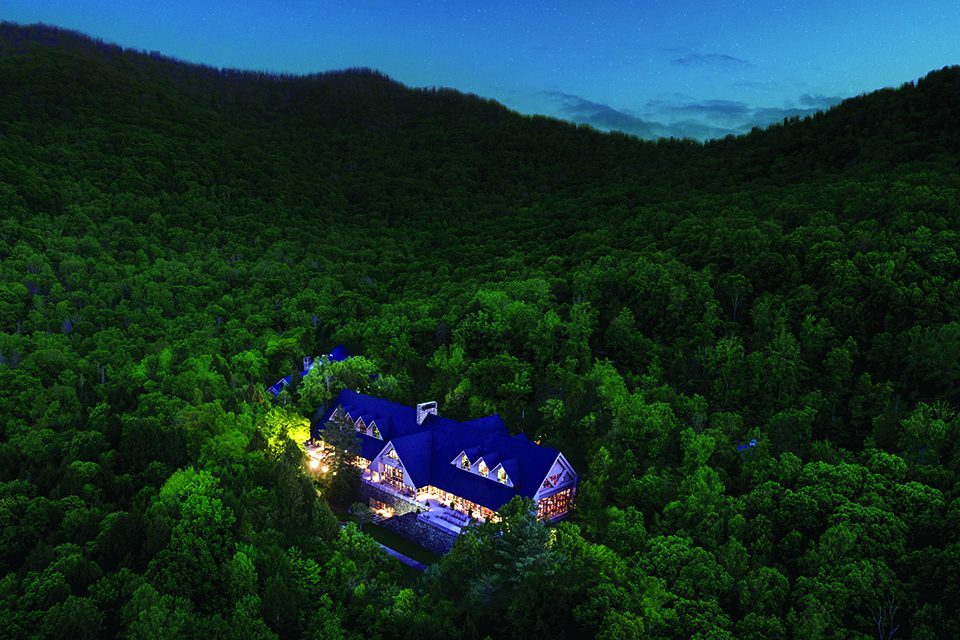 Billy and Ruth Graham established the
Billy Graham Training Center at The Cove
in Asheville, North Carolina, as a Christian retreat center where believers can study the Word of God in the heart of the beautiful Blue Ridge Mountains.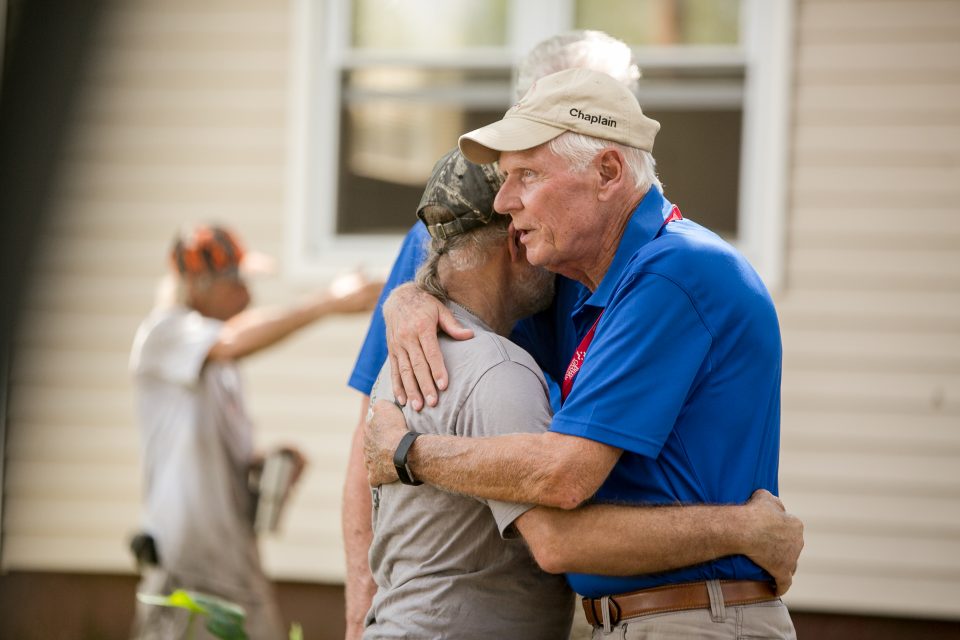 The
Billy Graham Rapid Response Team
is another ministry that has been active in North Carolina. Here, crisis-trained chaplains are ministering to residents in New Bern after Hurricane Florence caused widespread destruction in September 2018.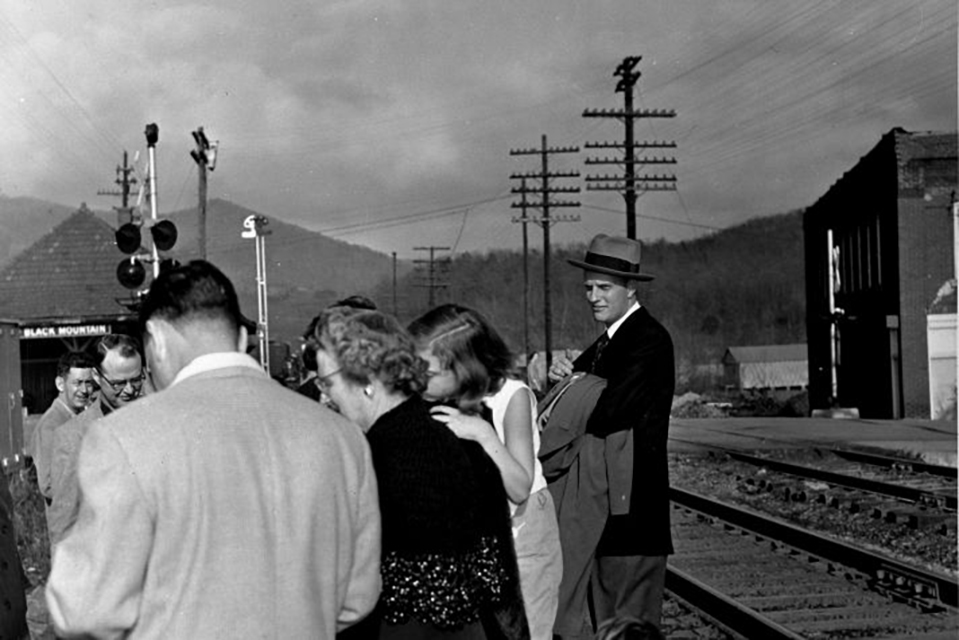 In the early days of his ministry, Billy Graham often took the train from this spot in Black Mountain, North Carolina, to bigger cities where he would then board a plane to make a preaching engagement.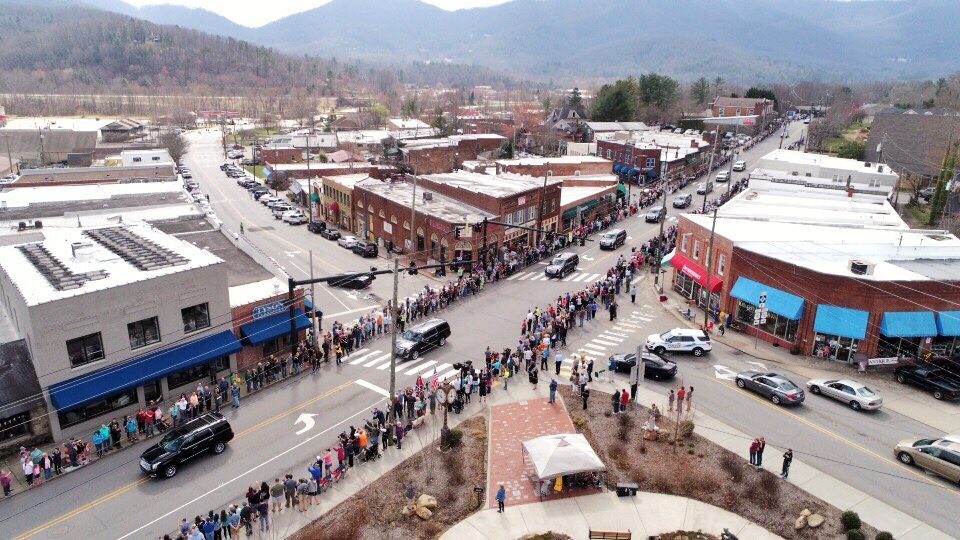 After
Billy Graham went to be with the Lord
on February 21, 2018, his memorial motorcade traveled from his home in Montreat to his final earthly resting place in Charlotte. Here, the motorcade passes through Black Mountain as people line the streets to pay their respects.
Billy Graham with his parents and three siblings in front of their childhood home in Charlotte. The Graham family homeplace was moved a few miles down the road from its original location and now stands on the grounds of the
Billy Graham Library
.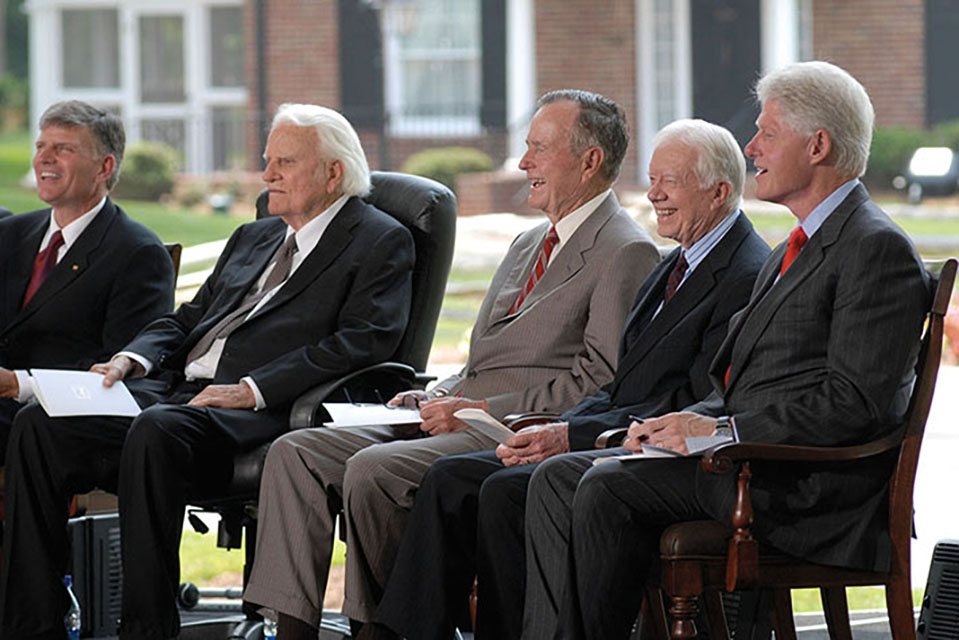 Franklin Graham, Billy Graham and three presidents—George H.W. Bush, Jimmy Carter and Bill Clinton—in front of Billy Graham's childhood home. This photo is from the dedication of the Library in 2007.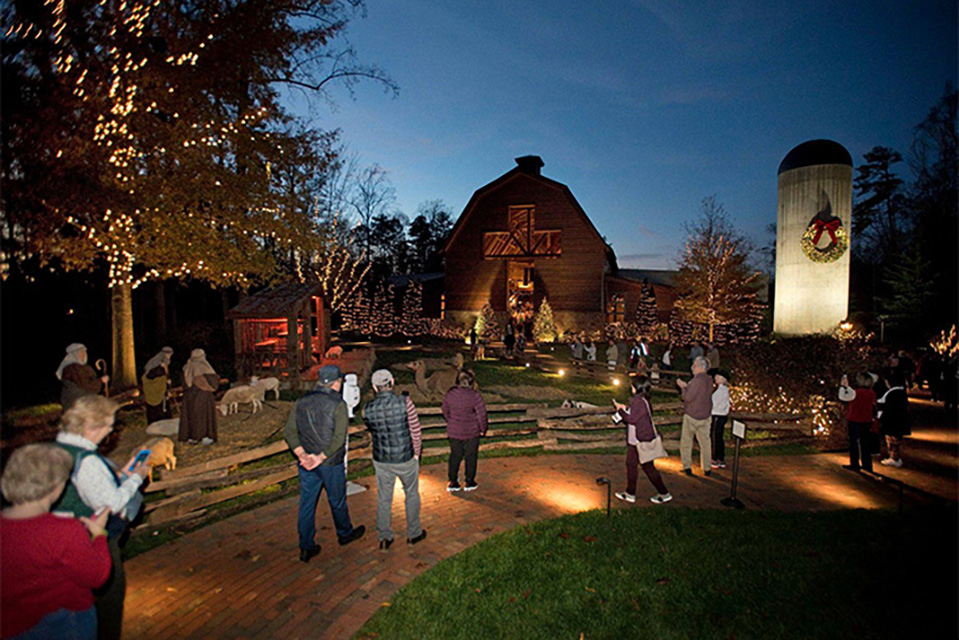 The Billy Graham Library has welcomed more than 1.3 million visitors since it opened in 2007. Here, guests enjoy the sights and sounds of
Christmas at the Library
, an annual celebration that takes place throughout December.
Billy Graham's grandsons carried his casket across the grounds of the Billy Graham Library for his memorial service on March 2, 2018. President Donald Trump, Vice President Mike Pence, and their wives attended the service alongside Mr. Graham's family, friends, ministry supporters and members of the BGEA team. Former presidents Bill Clinton and George W. Bush visited the Library earlier in the week to pay their respects. The BGEA ministry continues to take the Gospel message from its Charlotte headquarters to millions of people around the world.
Find out more about what the BGEA is doing today.